PakTESOL Regional Workshop & Symposium on English Language Teaching (ELT) December 19-21, 2022
Created AT :
2022-12-13
Fully Sponsored by Regional English Language Office- United States Embassy, Pakistan
Organized by Department of Education
in Collaboration with Department of English, Hazara University Mansehra, Pakistan.
PakTESOL (Teaching English to Speakers of Other Languages), in collaboration with RELO (US Embassy) has initiated the capacity building of English Language Teachers in Pakistan. The Department of Education, Hazara University Mansehra in collaboration with PakTESOL and RELO is organizing a three-day workshop and symposium for English Language Teachers in affiliated colleges of Hazara University Mansehra. Eminent scholars in the field of TESOL have been invited as keynote speakers and trainers in the workshop. The workshop and symposium will be valuable as it will give ELT teachers an exposure to modern knowledge and skills needed for effective English language teaching.
The following key areas will be covered in the workshop and symposium.
Practices and approaches in ELT
Integrating technology in English language classrooms
Project-based learning
Reflective thinking in academic writing
Skills and attitudes of English Language Teachers
Assessment strategies in ELT
Learner centered pedagogical approaches in ELT
Strategies for developing academic reading skills
Difficulties in ELT classrooms in cross-cultural perspectives
Language teachers as reflective practitioners
The registration to attend the symposium is free. The link to register for the said symposium is mentioned below:
https://docs.google.com/forms/d/e/1FAIpQLScWItG4IgqvL9uwVM1epfsDiYb386T1cGUZh6gpJB1TWALvOA/viewform?usp=sf_link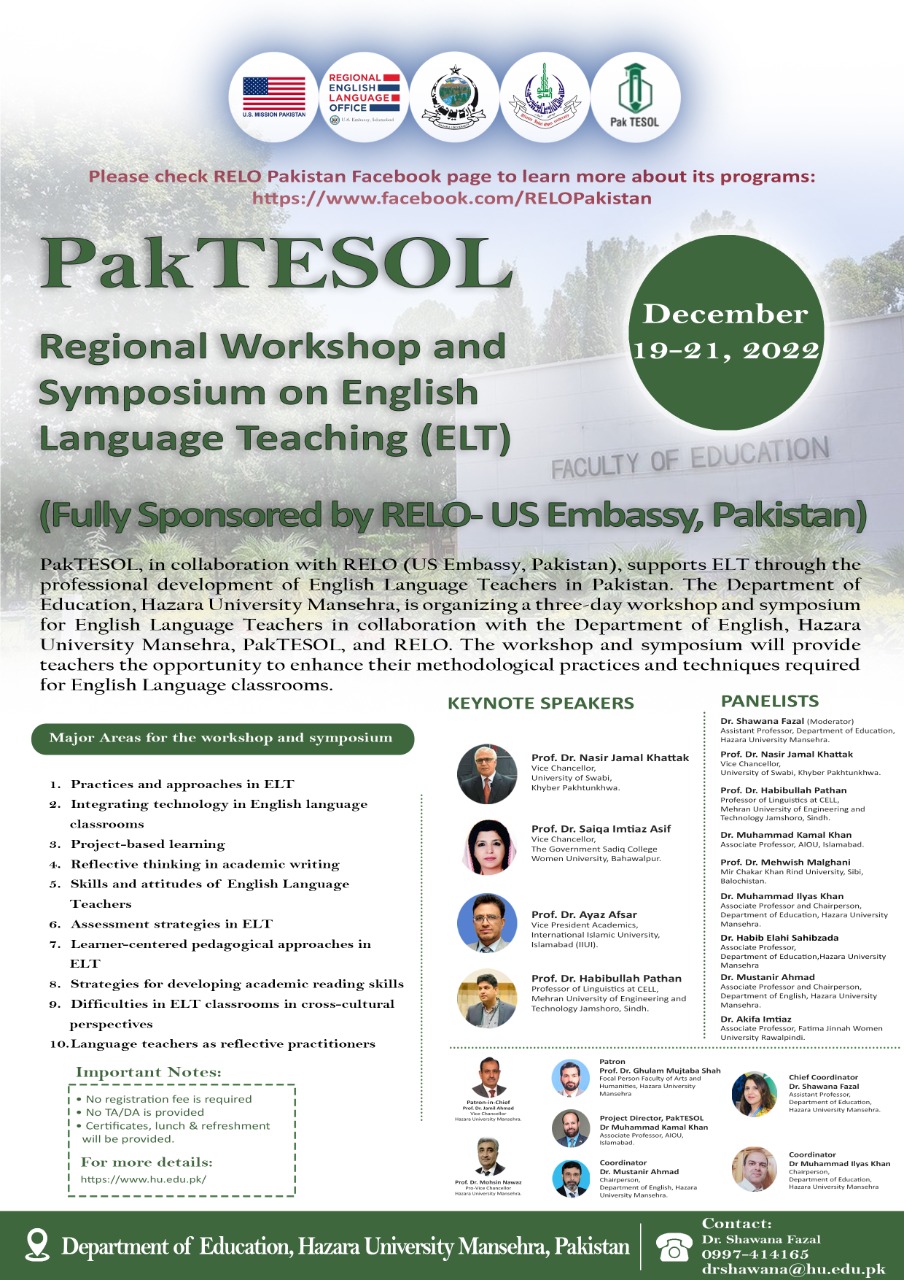 Chief Coordinator,
Dr. Shawana Fazal,
Assistant Professor, Department of Education,
Hazara University Mansehra.
Coordinator,
Dr. Muhammad Ilyas Khan,
Chairperson, Department of Education,
Hazara University Mansehra.